Will you get by with your state pension?
The answer is simple: no, you won't.
At least, this is the case for most Belgians. Because your statutory pension is (considerably) lower than your final salary. In other words, it's not enough to maintain your current lifestyle. That is why it's a good idea to build up a supplementary pension. To close the gap and to safeguard your future comfort.
At NN we believe everyone is unique. And that everyone has their own way of preparing for their old age. How can you ensure a comfortable old age?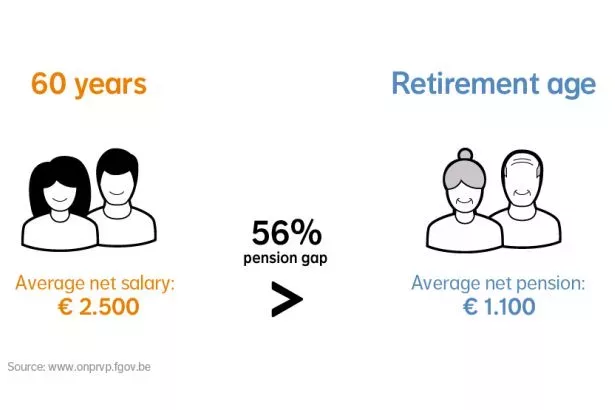 Ask yourself the following 3 questions
<small>1. When can I retire?</small>
The state retirement age is 65 and a full career spans 45 years. However, few people actually carry on that long: on average we retire at 61.
<small>2. How much statutory pension will I receive?</small>
Every Belgian who works is entitled to a state pension. The amount you will receive each month depends on your statute, your career and your salary. This means it varies greatly from one person to the next. A guaranteed minimum pension has been determined for a full career. However, since most people don't work the full 45 years, the actual average pension is lower.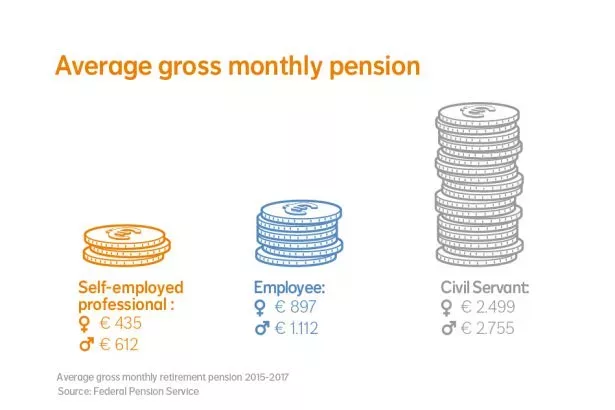 <small>3. How much money will I need for my pension?</small>
The average Belgian lives another 23 years after retirement. Fortunately your family expenditures drop once you're retired: 10% on average. This means a single retiree spends approximately €1,733 per month. For a couple that's €2,599. However, your income is cut by much more than 10%. For many Belgians, their state pension amounts to less than half their final salary.
Simulate how much you will need on top of your state pension
Curious to find out how much you will need to be safe in your old age? Your personal data is not stored.
Contact an NN insurance broker for more details or to schedule an appointment. He will be happy to discuss with you how you can make the most of your pension.
Pension solutions for you
There is a choice of different formulas to close the gap between your final salary and your pension.
With tax benefits
Without a mortgage
On top of your tax advantage
Exactly which fiscal and financial benefits your supplementary pension will bring depends on your situation.
The basic formula
With a company
Without a company
I am a private individual
Investing with additional protection against the financial consequences in the event of incapacity for work and optional death insurance.
Optimise your pension with our insurance broker
Your NN insurance broker listens to you, maps out your situation and elaborates a solution tailored to your needs. Thus you will discover the optimal way of financing your pension.