Six ways to pay yourself a salary as a self-employed person
25/03/2019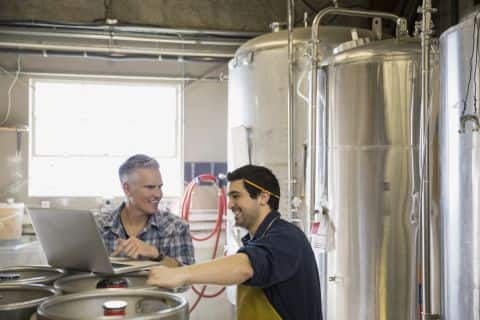 Employees usually receive their salary in their bank account each month. But a self-employed person has several possibilities for remuneration or for paying themselves through their company.
1. Gross salary 
You may pay yourself a gross salary: this is the most common method. In this case, you pay personal income tax. But you reach the high tax bracket very quickly, and must pay 50% tax. On top of this you must pay municipal taxes and social contributions. 
To avoid these taxes, self-employed people often pay themselves a small salary. But this gross salary may be supplemented in different ways. 
2. Dividend 
One of the methods used by self-employed people to avoid a high level of taxation on their gross salary is the payment of a dividend. Self-employed people pay less tax on this annual bonus, which is therefore more advantageous.
Your company pays a dividend, on which it pays corporate income tax. The amount which you receive in this case is a gross sum, from which the withholding tax of 15 or 30% must still be deducted. Normally, the withholding tax is set at 30%. But in certain cases (for recent companies or in the case of contributions after 1 July 2013), you will pay a reduced withholding tax of 15%. Thanks to the agreement concluded by the government during the summer of 2017, the first dividend bracket (up to €804) is exempt from withholding tax. For a self-employed person, this represents a tax benefit of €241,2. Only dividends from shares are taken into account, and not dividends from investment funds, for example.
Besides a dividend which may be paid each year, there is also an interim dividend and an intermediate dividend.
3. Building up a liquidation reserve 
In terms of taxes, building up a liquidation reserve is often much more worthwhile than the payment of a dividend. How does this happen in concrete terms?
To start, corporate income tax is applied to company profits. E.g.: the company made a profit of €100,000. Minus the corporate income tax (SME rate of 20%), this amounts to €80,000. 
In order to add up the maximum amount of the liquidation reserve, we must then divide this amount by 1.10. Therefore, 80,000/1.1 = €72,727.27. 
The company will pay 10% corporate income tax on the amount obtained, i.e. €72,727.27.
The balance (€65,454.55) will be set up as a definitive liquidation reserve. 
If the self-employed person wishes to include this amount (fully or partially) in his or her personal sphere later, the rate of the withholding tax will therefore be: 

0% in the case of company liquidation, 
5% if he or she waits at least 5 years, 
20% if he or she transfers it within 5 years.
For the first two scenarios (transfer after at least 5 years or in the case of liquidation), setting up a liquidation reserve will provide a higher net profit than a dividend (with a withholding tax of 30%).
4. Supplementary pension  
As a supplement to his or her gross salary, a self-employed person may also opt for a Private Supplementary Pension for the Self-employed (PSPS), an Individual Pension Agreement (IPA) (if he or she works as part of a company) or a Pension Commitment for the Self-employed (PCS). The supplementary pension capital will therefore be paid at the statutory pension age or as soon as the self-employed person is taken into account for an early statutory pension.
In the framework of a PSPS, the return is guaranteed and possibly supplemented by a bonus. With an IPA and a PCS, the self-employed person may opt for a guaranteed return (branch 21) or a return linked to investment funds (branch 23).
5. Fringe benefits 
A self-employed person with a company can also receive fringe benefits from his or her company. This sort of benefit is an advantage for the company from a tax perspective, given that it may be deducted as a business expense. A self-employed person does not have to pay social contributions on a company car, for example, given that it is a benefit in kind.
In concrete terms, there are three types of benefit: employer's costs, social benefits and benefits in kind. Each one is associated with a specific tax regime. Very often, these benefits are more advantageous than an increase in the gross salary, due to the level of taxation.
6. Property 
As a self-employed person with a company, you can get another break through your company by making a split purchase of a property. This could be a building with usufruct, whereby the company has usufruct whereas you have bare ownership as a private individual. When usufruct comes to an end, for example after 20 years, you become the full owner of the building. 
It is also possible to use a pension plan for the purchase, construction or renovation of a property in the form of an advance or collateral.