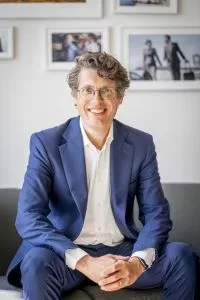 Frank Eijsink, Chief Executive Officer and member of the Board of Directors
Frank Eijsink was appointed Chief Executive Officer of NN Belgium on 1st February 2022.
Frank has a very  successful career behind him. In 2003 he began working in the Corporate Strategy department at ING Group. Since then he has occupied a number of senior management roles, including CEO ING Life Luxembourg, Global lead Solvency II Program and CEO NN Hayat ve Emeklilik in Turkey. In 2017, Frank was appointed CEO of NN Life Japan, which is the largest insurance market in which NN operates.
The invaluable knowledge that he has gained in these various markets, as well as his own expertise, will help Frank to ensure the continued growth of NN's business on the Belgian market.
Frank was awarded his Master of Science degrees in Applied Physics and Business Administration at Eindhoven Technical University.
Frank likes to spend his free time with his family, often going at the weekend to watch his 4 children compete in their sporting events. He enjoys hiking, skiing and running and Covid-19 has given him the opportunity to start playing the piano in his living room again.